About Us
The Moline Public Library serves the city of Moline, Kansas and surrounding areas. We can't wait to see you!
Mission Statement
The Moline Public Library is to provide free and equitable access to services which meet the changing needs of our community and surrounding areas. The library aims to enrich lives through universal access to knowledge, information, experiences, and ideas. We will promote lifelong learning and literacy within a welcoming and supportive environment.
History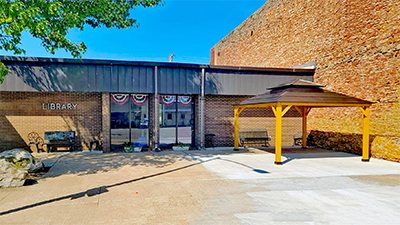 ​The people of the community have been enjoying the city library since 1932, when the musical and literary club of moline secured a traveling library from Topeka. This was kept at Polson's Drug Store and was opened once each week for checking out and check in books by a member of the club. The library proved so popular that the next winter the Musical and Literary club secured another traveling library from Topeka and the first Librarian was secured to open the case once each week for checking in and out books. The public showed sufficient interest in the project that the club decided to sponsor a permanent library. A bookcase and 50 books were donated by Roy Maxey and as the club needed more room for the library, Velia Stephenson gave her permission to have the library to be kept in the front room of her beauty parlor. The library continued to grow with donations from the community and a bigger space was needed.
In December 1936 the city gave the library a room in city hall and furnished the light and heat. The lumber and labor for shelves was donated by Lovett Mann. Dr. Shaffer donated a desk and book cases. With various donations, fundraisers and the sale of library cards for $.50 to check out books for a year. The Musical Literary club  was able to secure 544 volumes besides a traveling library of 50 volumes.
The first librarian was Mrs. Roger John and when she moved away Laura Collyer replaced her. The librarian was paid each month Mrs. Collyer assisted students in supplying material for themes. Teachers and club women enjoyed having children's story hour one evening once a week after library hours. Due to ill health Mrs. Collyer resigned and Mrs. Minnie Bruner replaced her.
After the war funding was discontinued and an appeal to the city council was asked for funds to be allowed to keep the library going.
On December 23, 1979 E. Scott Rairdon donated the current building to the Moline Public Library. The musical and literary club helped to move the library from the old library building across the street to its current location.
In 2008 due to generous donations the library plans for an expansion was put in place. The Expansion was completed in the Spring of 2010.

Moline Public Library
107 N. Main St.
Moline, KS 67353

► Library Hours
Tue: 9am - 12pm
Wed: 9am - 12pm & 1pm - 5pm
Sat: 9am - 12pm

► Phone